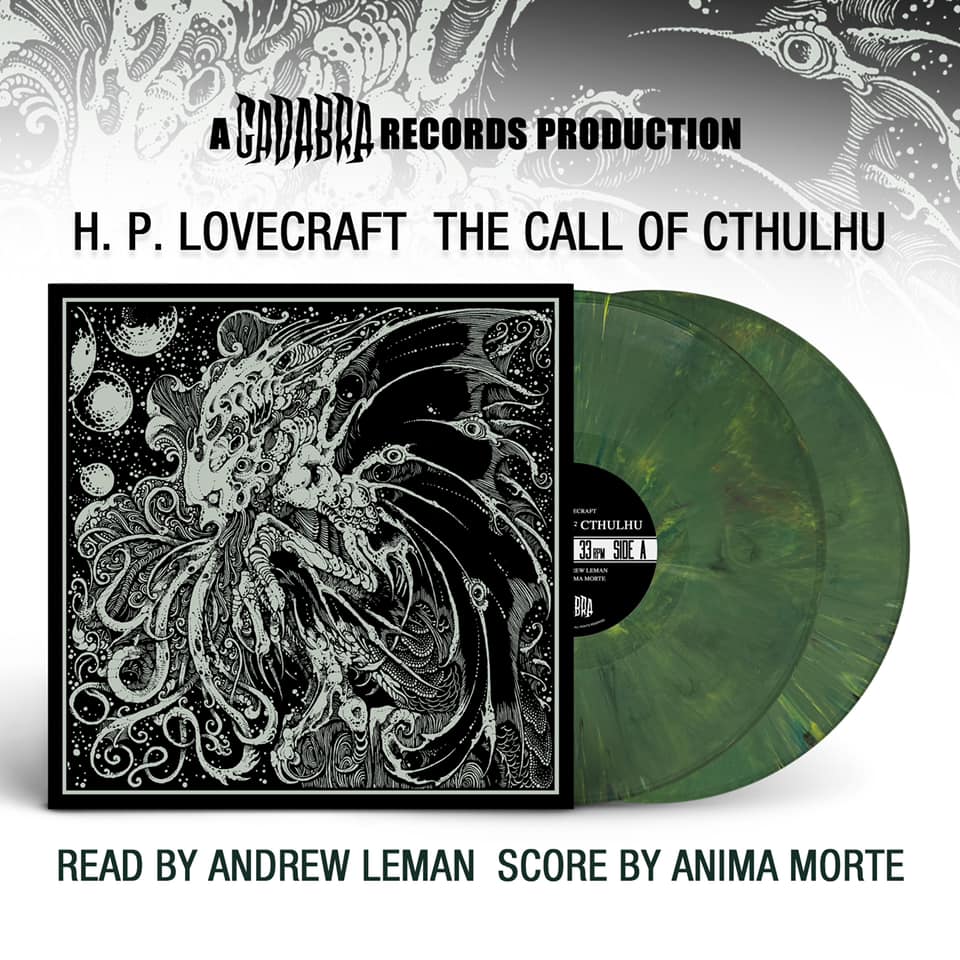 The Call of Cthulhu 2x LP – Read by Andrew Leman – Score by Anima Morte
"The Call of Cthulhu" is the seminal story in H. P. Lovecraft's literary output, and perhaps the seminal story in the entire history of twentieth-century weird fiction. It of course initiated the Cthulhu Mythos (a term devised not by Lovecraft but by August Derleth), and it heralded a remarkable burst of creativity that would belatedly establish Lovecraft as one of the premier writers in the history of supernatural fiction." 
– From the introduction notes by weird fiction scholar S. T. Joshi
About:
Andrew Leman's reading of H.P. Lovecraft's short story "The Call of Cthulu" is accompanied by the music of Swedish progessive rock act Anima Morte, and the pairing of voice and score results in an audio experience which serves to increase the tension which imbues every word from the writer's pen.
As Lovecraft describes, so does the musical score from Anima Morte go: "the malevolent tom-tom" with "its incessant beating," "insane shouts and harrowing screams, soul-chilling chants" – "nightmare itself" within a "voodoo orgy." As Leman reads the words, "It may have been only imagination and it may have been only echoes which induced one of the men, an excitable Spaniard, to fancy he heard antiphonal responses to the ritual from some far and unillumined spot deeper within the wood of ancient legendry and horror," the music provides that cry of the distantly glimpsed creature, as though the Old Ones had once again come down from the sky.
The opening music features faint, distant and wordless vocals which foreshadow the swamp cult which we will later encounter. When describing the Cthulu statue encountered by Inspector Legrasse, there is also jangling sounds and rhythmic pulses to again hint at the celebratory worship of that cult, replete with hints of chants and shakers, as though "the swamp and lagoon country to the south" of New Orleans had come north to the American Archaeological Society's annual meeting in St. Louis.
The sonorous notes which echo throughout every moment of "The Call of Cthulu" are portentous, as well, reflecting the vast oceanic depths from which "The Madness from the Sea" will rise and be encountered by the crew of the Vigilant. The mellotronic tones, coupled with the ever-growing intensity of the drums, recall Fabio Frizzi's immortal themes for Zombie Flesh Eaters and The Beyond, eerie in their unnatural reproduction of acoustic sounds.
The slow, sweeping chords which accompany the tale of R'lyeh are interstellar in their scope, further demonstrating the skills of Anima Morte to convey the many aspects of this globe- and galaxy-spanning work of Lovecraft's. Once the crew enters the "sea-soaked perversion" of non-Euclidian geometry, the music becomes as grand and mythic as the environment in which the sailors find themselves. It's chiming while grinding, two sounds which causes one's nerves to twinge as though they were there in R'lyeh themselves.
For details and availability of the vinyl editions check directly at Cadabra records or Psilowave!